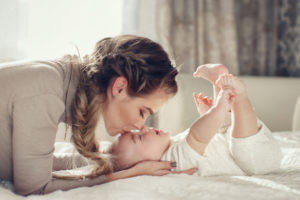 The ways in which breast reduction surgery can affect a woman's ability to breastfeed are unique to each patient. During breast reduction, the recontouring of the breast tissue, repositioning of the nipples, and placement of incisions are generally more likely to affect the milk ducts when compared to breast augmentation surgery. However, many individuals who were able to breastfeed before the procedure may still retain this ability post-operatively, depending on how the procedure is performed. To increase the likelihood of preserving breastfeeding function, it is essential to make your plastic surgeon aware of any plans for breastfeeding prior to the procedure.
Depending on a patient's goals for the surgery, breast reduction typically reshapes and/or repositions the nipple areola-complexes. The technique utilized during this process can damage a woman's milk ducts and affect nursing after the procedure. If the nipple is completely removed and repositioned using the "free-nipple" technique, breastfeeding is not possible. This approach typically severs the blood supply to the nipple-areola complexes and incurs some degree of nerve damage, making complications in regard to breastfeeding more likely. On the other hand, using the pedicle technique to reposition the nipples can allow the blood supply, nerves, and milk ducts to remain intact and strengthen the possibility of successful breastfeeding. These factors, among others, should be accounted for before surgery in order to deliver the most optimal outcome.
Ultimately, to allow the highest chance of breastfeeding after surgery, it is always vital to research the credentials of your board-certified plastic surgeon and communicate any future plans for breastfeeding with them. This can allow your surgeon to employ the techniques that may retain breastfeeding function and ensure you are receiving expert levels of care. While breastfeeding after breast reduction is not impossible, it is generally recommended to wait until after nursing is complete to undergo the surgery. From a cosmetic standpoint, breastfeeding after the procedure has been known to cause additional skin laxity and a loss of breast volume, potentially making the breasts more pendulous than aesthetically desired.   
For more information about breast reduction, or to schedule a consultation, please contact our practice today.