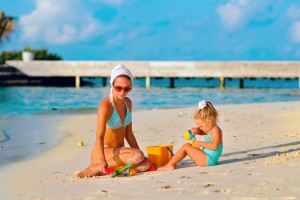 The Mommy Makeover procedure is actually a combination of several procedures. Our plastic surgeon, Dr. David Durst, is often asked about what can be done to help a young mother regain a more youthful appearance after childbearing. The Mommy Makeover procedure lets you reach that goal. Please call our staff to schedule an appointment with Dr. Durst to see if this is a procedure that would be good for you.
When Dr. Durst sees a patient about a Mommy Makeover, the concerns usually have something to do with the breasts and/or the abdomen. You may find that you lost breast volume after having children or breastfeeding. A breast augmentation can often be used to correct this situation. Other times, some droopiness may have developed called ptosis. Ptosis requires a mastopexy procedure (or breast lift) to correct the problem. In many situations an implant and breast lift can be done together.
Another component of the Mommy Makeover is addressing the abdomen. Sometimes despite exercising and weight loss after a pregnancy your abdomen just will not shape up to your satisfaction. In some situations, liposuction may be necessary to fine-tune some areas that just will not get back to the way they used to be. In other situations, a tummy tuck may be necessary. This would be the case when you have some loose or droopy skin. Exercising does not really tighten loose skin and so sometimes it just needs to be removed.
Many times the breast and abdominal procedures are coupled together so that you will only have to have one procedure for recovery purposes. Breast procedures usually take a week or so to get over. An abdominoplasty may take two to three weeks to get back to normal. It is important to have help with the children and help around the house during that time frame. These procedures are done with general anesthesia in our office surgery facility.
Dr. Durst would be happy to talk with you about your needs regarding a Mommy Makeover. Please check our before-and-after photo gallery to see some pictures of these procedures and contact our office anytime to schedule an appointment or talk about a Mommy Makeover.