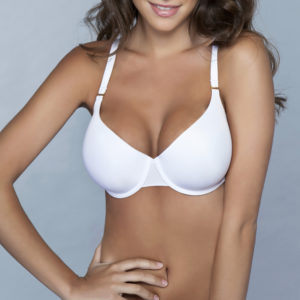 Although breast revision surgery can be used to replace a ruptured or damaged implant, this procedure is most commonly used for patients who wish to exchange their breast implants for a different size or type. During the consultation process, Dr. David L. Durst spends a lot of time discussing each patient's individual cosmetic goals and expectations, allowing them to make an informed decision about their implants. However, some women may decide to make adjustments to their results after some time has passed, often due to a change in preference.
Common reasons women choose to undergo breast revision surgery include a desire to increase the size of the implants, decrease the size of the implants, or exchange saline implants for silicone implants (or vice versa). These implant "upgrades" can help patients feel more confident and happy with their results. Other patients desire to remove their breast implants entirely and return to their natural size.
Breast revision surgery may also be performed if patients notice asymmetry, rippling, or capsular contracture after their initial implant surgery. Many of our patients seek out Dr. Durst and his breast revision expertise when they are unsatisfied with the results of a prior breast augmentation from another plastic surgeon. Dr. Durst works with each patient to design a customized surgical plan that can address their unique needs.
To learn more about breast revision surgery, please contact our office today.