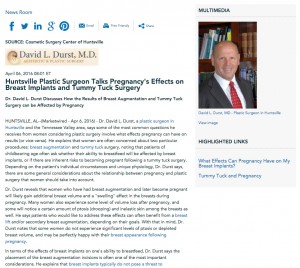 Dr. David L. Durst discusses how the results of breast augmentation and tummy tuck surgery can be affected by pregnancy.
Huntsville, AL – Dr. David L. Durst, a plastic surgeon in Huntsville and the Tennessee Valley area, says some of the most common questions he receives from women considering plastic surgery involve what effects pregnancy can have on results (or vice-versa). He explains that women are often concerned about two particular procedures: breast augmentation and tummy tuck surgery, noting that patients of childbearing age often ask whether their ability to breastfeed will be affected by breast implants, or if there are inherent risks to becoming pregnant following a tummy tuck surgery. Depending on the patient's individual circumstances and unique physiology, Dr. Durst says, there are some general considerations about the relationship between pregnancy and plastic surgery that women should take into account.
Dr. Durst reveals that women who have had breast augmentation and later become pregnant will likely gain additional breast volume and a "swelling" effect in the breasts during pregnancy. Many women also experience some level of volume loss after pregnancy, and some will notice a certain amount of ptosis (drooping) and inelastic skin among the breasts as well. He says patients who would like to address these effects can often benefit from a breast lift and/or secondary breast augmentation, depending on their goals. With that in mind, Dr. Durst notes that some women do not experience significant levels of ptosis or depleted breast volume, and may be perfectly happy with their breast appearance following pregnancy.
In terms of the effects of breast implants on one's ability to breastfeed, Dr. Durst says the placement of the breast augmentation incisions is often one of the most important considerations. He explains that breast implants typically do not pose a threat to breastfeeding as long as the initial incisions have not potentially compromised the integrity of the ducts responsible for producing breast milk. Therefore, it's important that patients talk to their surgeons about any plans to breastfeed in the future so that the ideal technique will be utilized.
Finally, when it comes to tummy tuck surgery, Dr. Durst says that the procedure should not affect a healthy woman's ability to become pregnant or to successfully deliver the baby; however, pregnancy after the treatment will most likely have significant aesthetic effects. If an individual has tummy tuck surgery and later becomes pregnant, Dr. Durst notes that the abdominal muscles and skin will become stretched to a major degree, having an impact on the results. While these effects can often be corrected with a secondary tummy tuck surgery, Dr. Durst says he typically advises women to wait until they have completed their families before undergoing the procedure in order to avoid the potential that results will be compromised.
Dr. Durst says talking to an experienced, board-certified plastic surgeon who will thoroughly explain all risks and expectations involved with surgery is one of the most important things women can do before undergoing treatment. He notes that women who are concerned about pregnancy's effects on plastic surgery results, as well as a specific procedure's potential effects on pregnancy, should be sure to have their questions fully answered by the surgeon they are considering.
About David L. Durst, MD
Certified by the American Board of Plastic Surgery, Dr. David L. Durst has been a practicing plastic surgeon in Huntsville for nearly 30 years. Dr. Durst is co-founder of The Cosmetic Surgery Center of Huntsville, a comprehensive plastic surgery center that has been certified by The American Association for the Accreditation of Ambulatory Surgery Facilities. He is a member of the American Society of Aesthetic Plastic Surgeons, the American Society of Plastic Surgeons, the Alabama Society of Plastic Surgeons, and other organizations. Dr. Durst is available for interview upon request.
For more information about Dr. Durst and his plastic surgery practice, please visit drdurst.net.
Contact:
Dr. David L. Durst
Cosmetic Surgery Center of Huntsville
4011 Balmoral Dr.
Huntsville, AL 35801
(256) 881-4200
Rosemont Media
(858) 200-0044
www.rosemontmedia.com