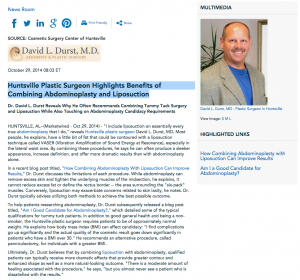 Dr. David L. Durst Reveals Why He Often Recommends Combining Tummy Tuck Surgery and Liposuction While Also Touching on Abdominoplasty Candidacy Requirements
HUNTSVILLE, AL–(Marketwired – Oct 29, 2014) – "I include liposuction on essentially every true abdominoplasty that I do," reveals Huntsville plastic surgeon David L. Durst, MD. Most people, he explains, have a little bit of fat that could be contoured with a liposuction technique called VASER (Vibration Amplification of Sound Energy at Resonance), especially in the lateral waist area. By combining these procedures, he says he can often produce a sleeker appearance, increase definition, and offer more dramatic results than with abdominoplasty alone.
In a recent blog post titled, "How Combining Abdominoplasty With Liposuction Can Improve Results," Dr. Durst discusses the limitations of each procedure. While abdominoplasty can remove excess skin and tighten the underlying muscles of the midsection, he explains, it cannot reduce excess fat or define the rectus border — the area surrounding the "six-pack" muscles. Conversely, liposuction may exacerbate concerns related to skin laxity, he notes. Dr. Durst typically advises utilizing both methods to achieve the best possible outcome.
To help patients researching abdominoplasty, Dr. Durst subsequently released a blog post titled, "Am I Good Candidate for Abdominoplasty?," which detailed some of the typical qualifications for tummy tuck patients. In addition to good general health and being a non-smoker, the Huntsville plastic surgeon requires patients to be of approximately normal weight. He explains how body mass index (BMI) can affect candidacy: "I find complications go up significantly and the actual quality of the cosmetic result goes down significantly in patients who have a BMI over 30." He recommends an alternative procedure, called panniculectomy, for individuals with a greater BMI.
Ultimately, Dr. Durst believes that by combining liposuction with abdominoplasty, qualified patients can typically receive more dramatic effects that provide greater contour and enhanced shape as well as a more natural-looking outcome. "There is a moderate amount of healing associated with the procedure," he says, "but you almost never see a patient who is dissatisfied with the results."
About David L. Durst, MD
Certified by the American Board of Plastic Surgery, Dr. Durst is a plastic surgeon who has been in private practice in Huntsville since 1987. He attended medical school at the University of Missouri-Columbia and went on to complete his surgical residency and plastic surgery residency at the University of Kentucky. An active member of several esteemed medical organizations, including the American Society of Plastic Surgeons and the American Society for Aesthetic Plastic Surgery, he is also affiliated with Crestwood Hospital, the Surgery Center of Huntsville, and Huntsville Hospital. Dr. Durst is available for interview upon request.