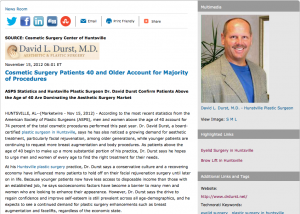 ASPS Statistics and Huntsville plastic surgeon Dr. David Durst confirm patients above the age of 40 are dominating the aesthetic surgery market.
Huntsville, AL — According to the most recent statistics from the American Society of Plastic Surgeons (ASPS), men and women above the age of 40 account for 74 percent of the total cosmetic procedures performed this past year. Dr. David Durst, a board-certified plastic surgeon in Huntsville, says he has also noticed a growing demand for aesthetic treatment, particularly facial rejuvenation, among older generations, while younger patients are continuing to request more breast augmentation and body procedures. As patients above the age of 40 begin to make up a more substantial portion of his practice, Dr. Durst says he hopes to urge men and women of every age to find the right treatment for their needs.
At his Huntsville plastic surgery practice, Dr. Durst says a conservative culture and a recovering economy have influenced many patients to hold off on their facial rejuvenation surgery until later on in life. Because younger patients now have less access to disposable income than those with an established job, he says socioeconomic factors have become a barrier to many men and women who are looking to enhance their appearance. However, Dr. Durst says the drive to regain confidence and improve self-esteem is still prevalent across all age-demographics, and he expects to see a continued demand for plastic surgery enhancements such as breast augmentation and facelifts, regardless of the economic state.
"Many patients are personally motivated to try and look better," says Dr. Durst. "They are willing to consider not just nonsurgical options but also surgery, and I think that is somewhat age-independent."
Whether they are motivated by pressure to compete in a struggling job market or a desire to look younger, Dr. Durst says being able to understand the benefits of each cosmetic procedure and help patients choose the right treatment for their particular stage of life is an essential step of the plastic surgery process. He has listed the following procedures, along with a short guide to outline when they are most effective for patients:
-Breast augmentation patients tend to range anywhere from 20 to 50, as age often has little to do with whether a patient can benefit from a more proportional figure.
-Tummy tucks are mostly performed between the ages of 30 and 40, after women have had children and before skin begins to lose its elasticity.
-Most patients in their 40s and 50s are ready for eyelid surgery, once their eyes begin to look puffy and tired.
-Facelift and brow lift patients are generally all older than 50, as the procedure is designed to tighten the face and restore a youthful vibrancy to one's complexion.
Regardless of when patients decide a plastic surgery procedure is right for them, Dr. Durst says he stresses the importance of consulting with a board-certified plastic surgeon before undergoing any treatment. He encourages patients of every age to research their practice extensively to ensure they receive the highest quality care and the most effective results.
About David L. Durst, MD
Dr. David Durst graduated from the University of Missouri-Columbia Medical School and completed both his general surgery and plastic surgery residencies at the University of Kentucky. He is board-certified by the American Board of Plastic Surgery as well as a member of the American Society of Plastic Surgeons and the American Society for Aesthetic Plastic Surgery. Dr. Durst and The Cosmetic Surgery Center of Huntsville are the area's only free-standing plastic surgical center accredited by the American Association for Accreditation of Ambulatory Surgery Facilities.
Located at 4011 Balmoral Drive in Huntsville, AL 35801, Dr. Durst's practice can be reached at (256) 881-4200. It can also be contacted online via the website drdurst.net or facebook.com/drdaviddurst.