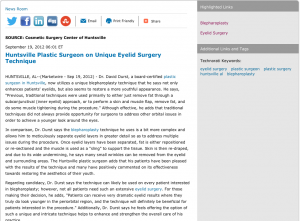 Huntsville, AL — Dr. David Durst, a board-certified plastic surgeon in Huntsville, now utilizes a unique blepharoplasty technique that he says not only enhances patients' eyelids, but also seems to restore a more youthful appearance. He says, "Previous, traditional techniques were used primarily to either just remove fat through a subconjunctival (inner eyelid) approach, or to perform a skin and muscle flap, remove fat, and do some muscle tightening during the procedure." Although effective, he adds that traditional techniques did not always provide opportunity for surgeons to address other orbital issues in order to achieve a younger look around the eyes.
In comparison, Dr. Durst says the blepharoplasty technique he uses is a bit more complex and allows him to meticulously separate eyelid layers in greater detail so as to address multiple issues during the procedure. Once eyelid layers have been separated, fat is either repositioned or re-sectioned and the muscle is used as a "sling" to support the tissue. Skin is then re-draped, and due to its wide undermining, he says many small wrinkles can be removed from the eyelid and surrounding areas. The Huntsville plastic surgeon adds that his patients have been pleased with the results of the technique and many have positively commented on its effectiveness towards restoring the aesthetics of their youth.
Regarding candidacy, Dr. Durst says the technique can likely be used on every patient interested in blepharoplasty; however, not all patients need such an extensive eyelid surgery. For those making their decision, he adds, "Patients can receive very dramatic eyelid results where they truly do look younger in the periorbital region, and the technique will definitely be beneficial for patients interested in the procedure." Additionally, Dr. Durst says he feels offering the option of such a unique and intricate technique helps to enhance and strengthen the overall care of his practice.
About David L. Durst, M.D.
After earning his degree from the medical school at the University of Missouri-Columbia, Dr. David Durst completed a residency in surgery and plastic surgery at the University of Kentucky. He is active in the community and dedicated to providing the highest level of cosmetic surgical care possible. Dr. Durst has been practicing in the private sector since 1987, and he is well versed in a comprehensive span of procedures ranging from breast augmentation to BOTOX® Cosmetic. He is also board certified by the American Board of Plastic Surgery and affiliated with both Crestwood Hospital and the Surgery Center of Huntsville.
Located at 4011 Balmoral Dr. Huntsville, Alabama 35801, Dr. Durst's practice can be reached via phone at 256-881-4200. He and his staff can also be contacted online at drdurst.net and facebook.com/drdaviddurst.