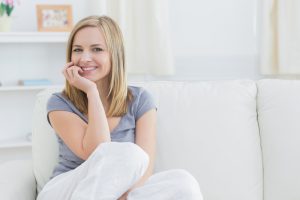 While each patient is different and the recovery process will be somewhat unique to everyone, there are some general aspects of recovery from breast lift with implants surgery that most people can expect to experience. Since this treatment is a combination procedure – breast augmentation to increase volume and enhance shape; breast lift to address sagginess and excess skin in the breasts – you will need to set aside a certain period of time following surgery to rest and heal. Most patients will have some degree of bruising and swelling in the breasts after the procedure, and Dr. David Durst, our board-certified plastic surgeon, will likely recommend a special type of bra to be worn during recovery. There will be some tenderness and soreness in the treated areas; however, discomfort can be alleviated with medication.
Many breast lift with augmentation patients are able to return to their normal daily routines after about two weeks, but activities will need to be limited, and some patients may require a bit more time for rest. Strenuous exercises or other activities should be avoided for at least four weeks. It's important to note that post-operative swelling in the breasts can last for up to a year, or even longer. That said, swelling in the treatment areas should fade significantly in the months following surgery, and many patients barely notice it as time goes by. Dr. Durst will create a detailed guideline for the recovery process and talk with you about all aspects of the procedure and post-operative care. The recovery period is a very important stage of the treatment overall, and adherence to post-operative instructions is crucial to ensuring a safe recovery and results that meet – and perhaps even exceed – your expectations.
We encourage you to contact our practice with any questions you may have, or to schedule a consultation. The breast lift with augmentation procedure has helped many women renew the appearance of their breasts with beautiful, natural-looking results!