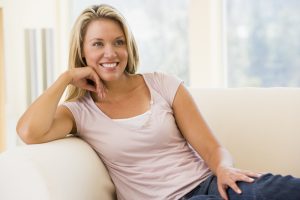 A breast lift can effectively address sagginess or "droopiness" in the breasts that is typically caused by the natural aging process, genetics, pregnancy, weight fluctuation, or even simple gravity. With a breast lift surgery (medically known as mastopexy), our board-certified plastic surgeon, Dr. David Durst, can remove excess skin and tighten the remaining skin, "lifting" the breasts to a higher position and giving them a firmer, more youthful appearance. While this procedure can be very beneficial for patients who simply want to address sagginess (ptosis) in the breasts, it will not be effective for those who also want to enhance the size of their breasts to any significant degree. Fortunately, those goals can be accomplished with a breast lift with implants surgery, a combined procedure that can address both excess skin development in the breasts as well as breast volume.
Breast lift with implants (augmentation) can increase the fullness of the breasts while simultaneously addressing sagging skin and breast droop. Dr. Durst will eliminate excess skin and move the breasts to a higher position, pulling the skin taut and providing a "perkier" aesthetic. Then, he will add saline or silicone breast implants to enhance volume and shape of the breasts. In some cases, a breast lift and augmentation with implants may need to be done as separate procedures, specifically if a significant enlargement is desired.
To be sure, not every individual will need a combination breast lift with implants procedure to achieve her needs and goals. When you arrive for your initial consultation, Dr. Durst will perform a comprehensive evaluation and talk with you about your concerns. Only one of these procedures may be enough to help you attain your goals. With that in mind, women who are seeking both a rejuvenation of the breasts and increased fullness and volume may benefit from a combination of the two treatments.
If you have questions about breast lift, breast augmentation, or breast lift with implants procedures, please don't hesitate to contact us today.