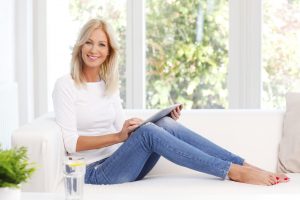 Beginning to notice the signs of aging? Thankfully, there are options to help remedy indications of wrinkles, excess skin, and loss of youthfulness. Both surgical and non-surgical facial rejuvenation procedures can enhance features around the face and neck, and each offers unique advantages. Depending on the aesthetic goals you and our plastic surgeon discuss during the consultation, an appropriate procedure will be chosen.  
A surgical facelift is designed to improve signs of deep wrinkles and excess or drooping skin on the face and neck. This popular procedure typically offers long-term results when severe signs of aging are noticeable. As this method is surgical, there will be a longer recovery period, requiring some downtime to heal safely and effectively.
A liquid facelift, sometimes referred to as a "lunchtime lift," can be done in less time than its surgical alternative. This treatment typically utilizes cosmetic injectables and advanced dermal fillers, such as BOTOX® Cosmetic, JUVÉDERM®, and/or Restylane®. These options can help reduce signs of aging around areas of the face such as the forehead, cheeks, lips, and near the eyes. Your preferences and goals will be discussed with Dr. Durst before the treatment begins. Ultimately, this minimally invasive procedure is designed to diminish wrinkles, highlight contours on the face, and restore volume to the lips and cheeks. It will not eliminate excess skin or create results that will last as long as a surgical facelift; however, a liquid facelift can be very beneficial for patients who may not need a full facelift to achieve the desired results. The procedure can also be repeated to extend the effects. The liquid facelift might be a good option for individuals seeking procedures that do not require extensive recovery time.
Ultimately, it is best to schedule a consultation with a board-certified plastic surgeon to discuss these cosmetic treatments. To book an appointment with Dr. Durst, please contact our Huntsville office.