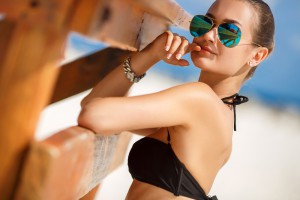 Breast augmentation (breast enlargement) is one of the most popular procedures in cosmetic surgery. In most patients, breast implants are inserted into the tissue to create the appearance of larger breasts. There are a number of reasons why an individual might desire breast enhancement, including to improve the fit of clothing and to develop a more proportional figure. Some patients may wish to restore their pre-pregnancy body, and other patients may simply want to feel better about their overall shape.
Breast Augmentation Procedure
During the breast enlargement procedure, our plastic surgeon, Dr. David L. Durst will insert the breast implants into pockets in the tissue. This is generally done an as outpatient surgery with general anesthesia. Implants are placed either under the muscle or over the muscle as determined by Dr. Durst's personal evaluation of what will work best. The use of implants in surgery involves many different choices. Either saline or silicone implants can be utilized. In addition, textured implants offer many advantages, and, recently available, shaped implants (silicone) can be used for breast enlargement. Again, it takes Dr. Durst's examination and thorough discussion with the patient to determine which choice would be best for each surgery. Incision options are equally variable and include under the breast and around the nipple. There are advantages and disadvantages to each of these approaches, which will be fully explained during consultation.
Breast Implant Options
Of course, most people are concerned about size. Breast implants do come in different sizes (and shapes), and it is important to pick the right size for each patient. Dr. Durst will help individuals understand what the pluses and minuses of different sizes are and what will look best based on patient goals. Several different techniques can be used to help with the pre-surgical planning utilized for each patient.
Breast Augmentation Recovery
Breast augmentation is generally done as an outpatient procedure, meaning that the patient can go home the same day. Dressings are used to protect the treated area post-surgery. Some soreness is normal, and there are medications to control discomfort. Generally, patients take about a week off from work. Aftercare regarding bras and activities are individualized for each patient, but generally patients can start exercising lightly by walking at two weeks and resume full sports at about four weeks. Some exercises should be avoided long term subsequent to breast augmentation, and Dr. Durst will discuss these matters with each patient.
Early on, breasts may feel tight and appear somewhat artificial. As the swelling goes down, most patients notice significant improvement about a week or two after surgery, and after approximately four weeks, patients should begin to see the final results.
Internally, it takes a year for tissue to completely heal; however, most of these changes occur in the first six weeks. By that time, most patients can be relatively confident about their new breast size. Photos are taken at two months for comparison with preoperative appearance. Long term care is individualized for each patient depending on their work, sports activities, and type of implants, and this requires in-depth discussion. Dr. Durst believes that long term follow-up care after breast implant surgery is important, and he continues to see patients once a year for as long as they want to come.