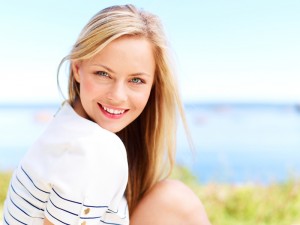 Breast augmentation has surged in popularity as a cosmetic enhancement procedure over the years, and women now have more choices than ever when it comes to breast implants that can provide them with beautiful, natural-looking results. One of the most important decisions you'll make when considering breast enlargement involves the size, shape, and type of the implants themselves. While you may feel a little overwhelmed at the number of options to choose from, Dr. David Durst will answer all of your questions and help you narrow down the choices that can best meet your goals. Remember, breast augmentation procedures at our practice are custom-designed for your specific needs. Dr. Durst places a heavy emphasis on creating results that meet your expectations while looking as natural as possible.
Read more about things you should know before undergoing breast augmentation.
Breast Implant Types
There are two major types of breast implants available at our practice: silicone and saline. Silicone implants are composed of a silicone outer shell that encases a silicone gel solution. Saline breast implants are also made of a silicone shell; however, they are filled with a saline (saltwater) solution rather than silicone. Each type of implant holds distinct advantages depending on your unique physiology and the goals you have in mind. Dr. Durst will help you decide which is best for your needs.
Breast Implant Sizes and Shapes
When it comes to size and shape of the implants, you will have a plethora of options. As far as size is concerned, the best choice is often the one that takes both volume and overall proportion into account. Breast augmentation should enhance your entire silhouette, which makes the rate of projection, the effect on your profile, and the amount of breast volume that will be added all important factors to consider. Dr. Durst will present your options to you during the consultation and even give you the opportunity to "try on" various breast implants to determine the best size.
The shape of the implant will also be an important part of the decision-making process. "Round" breast implants are often beneficial for patients who would like a more prominent projection for the breasts. These implants can also be good options for adding volume to the upper breast regions. Plus, if the implants move inside the breast tissue, round breast implants tend to hold their shape, which often makes any movement virtually unnoticeable.
"Teardrop"-shaped breast implants are another popular option. These implants are designed with a downward slope. They can be very effective for women of a certain body type. Very thin individuals who are considering a significant enhancement of breast volume may benefit from teardrop-shaped implants, as well as patients who desire the most natural shape.
The best way to determine the ideal type, shape, and size of breast implants for your needs is to talk with our board-certified plastic surgeon and have a detailed look at all of the choices available to you. Together, you and Dr. Durst will decide upon the option that can provide you with results that look natural and beautiful while enhancing your profile in the best way possible!
Please contact our practice with any questions you may have, or to schedule a breast augmentation consultation.