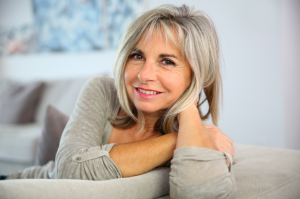 A surgical facelift is designed to improve deep wrinkles and excess, drooping skin on the face and neck. Typically, after this procedure, patients will experience some swelling or bruising, which should diminish throughout the recovery period. Some discomfort is also common the first few days following the treatment. Usually, Dr. David Durst will prescribe  an oral medication to help alleviate any pain, and rest will be essential for a healthy and safe recovery.
Having a friend or family member to help around the home would be very beneficial to the patient following the surgery. Clean laundry, pre-made meals, and a bedroom with comfort items and water nearby could make a big difference, as rest and relaxation will be necessary. Our team recommends keeping the head elevated to encourage blood flow. In about ten days the patient should be able to continue a normal routine; however, strenuous activity and exercise should be avoided for a few weeks.
Facelift results should become more pronounced as any swelling and bruising subsides. The outcomes from facelift surgery are usually long-lasting, and can also be touched up later with non-surgical methods like dermal fillers or injectables.
Every patient is unique, as are the ultimate facelift results and recovery experiences. For a personal consultation, we encourage you to reach out to our office with any questions you may have.