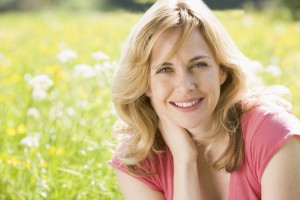 Eyelid surgery, also known as blepharoplasty, can involve the upper eyelids, lower eyelids, or both. Eyelid surgery typically involves removal of the excess skin from the eyelids and contouring of the fat pads that often show up as puffy areas around the eyes. Dark circles under the eyes that are caused by shadowing from the fat pads often will be improved, but dark circles caused by pigmentary conditions of the skin are not specifically addressed. Patients often begin to consider eyelid surgery after friends tell them that they "look tired," when in reality their droopy eyelids cause them to appear tired or older than they feel.
Eyelid Surgery Procedure
At your first appointment to discuss eyelid surgery, our plastic surgeon, Dr. David L. Durst, will obtain a medical history regarding your overall health and eye health. He will specifically examine your eyelids. Additionally, he will also look at your face from the standpoint of generalized harmony. Sometimes the problem is not the eyelids, but instead is the result of a droopy forehead or a combination of the two. Many patients will seek eyelid surgery before they believe that they need a facelift or brow lift. Dr. Durst will individualize his plan for surgery based on your specific needs.
Eyelid Surgery Recovery
The surgery will be performed in Dr. Durst's in-office surgical suite under either general or local anesthesia. This surgery typically does not require an overnight stay. You will go home with eye patches that you will need to wear for a couple of days. Patients often are surprised that there usually is very little pain or swelling after eyelid surgery, and they find that they only need pain medication for the first day. Swelling is mild to moderate, and many patients are out and about with sunglasses about three to four days after surgery. Most individuals return to work in approximately five to seven days. The incisions from eyelid surgery heal very quickly, and they generally can be covered with makeup in about two weeks. After approximately four to six weeks, the incisions often are imperceptible. Dr. Durst will advise you regarding your activities after surgery, but most patients can resume light exercising at around two weeks after surgery and be back to full activity at about three weeks after surgery.
Most patients think they look great four to six weeks after eyelid surgery. Pictures will be taken at two months after surgery and then again at a year after surgery. Eyelid surgery is a procedure that generally lasts a very long time and can make a dramatic difference in your appearance.
If you would like to make an appointment to see Dr. Durst about possible eyelid surgery, please contact our office.